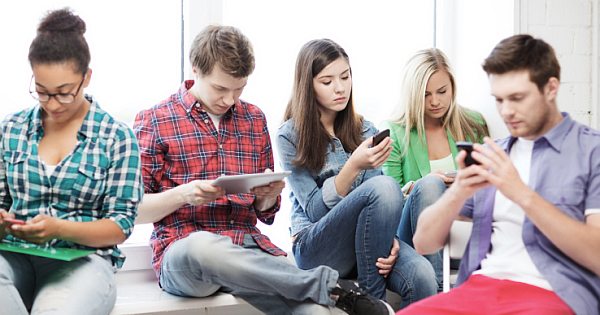 2015 came up with more technology, more innovation and more ideas resulting in giving people applications with advance features and technology. Everyone prefers that product which ensure reliability and give user more control. 2015 introduced  advance features in applications. There is a good range and variety of messaging application. I have here compiled the list of best 5 messaging applications, which is as follow:
EvolveSMS
EvolveSms is SMS messaging application. It has beautiful design. The basic application is free but to use more and full features, it has in-app payment solution. The core features that this application provides is that It provides Group messaging, Bulk SMS and has big range of emoticons too. Unlike many SMS messaging applications, it provides privacy features like password protection for your messages. The main reason for its popularity is its design. Its intelligent design craves its users to use it. Design features, in convo and pop back reply are just awesome. If you are fond of SMS messaging, then this application is just what you are looking for. It is available in android and its feasibility with push bullet allows its use in computer OS too.
Viper
Viber is a free Internet Messaging IM application. Viber is available in all platforms from mobile to Desktop. With its easy to use design ,it offers Video calls , group conversation and many other features. It offers fast and reliable messaging service. It supports , sharing videos and pictures in your contacts. There are many celebrities interacting with their fans in Viper too. You can interact with your favorite celebrity in Public chats and follow them.
WhatsApp
It was the news of the year as far as tech world is concerned that WhatsApp is bought by Facebook for 19 billion dollars. It is the highest sold application ever. It is the best and top rated messaging application. You have to connect your mobile number with it. All your  data is linked and stored.  It even stores groups you are associated with in this application. Offering a wide range of emoticons and chat features , it is undoubtedly the best one out here. It is compatible in almost all mobile platforms. It extracts contacts from your mobile phonebook and sends messages  using data ( internet )  . So, you can chat with international contacts free of cost too (standard data charges may apply).  It is free for one year so. After it , you will have to pay $0.99 per year for it.
Its Android Link is here. You can find its compatible versions for your device over internet easily.
Snap Chat
Snapchat is gaining fast popularity. It is mobile conversation app, which allows messaging through data. It is fun messaging app and gives good option for people wanting change from Viber or WhatsApp . Its concept is different so,  can give you a good change.
Line
Line is another mobile messenger app. It is available on all mobile  platforms . It is new as compared to others in the list. It is free for basic messaging on phone over internet. It also allows Premium calls ,for which you need to pay for. Not only text but voice and video call are free too. Line application got famous for emoticons , Stickers , avatars and characters they offer in their application. It has also its PC version available.